25-Nov.-2014
The Bogota Police Dept has issued the following alert.
Advisory: Plan Ahead-Potential Snow of more than 2 in. predicted. Review Snow Parking Ordinances at www.bogotapolice.org
Borough Residents are asked to plan ahead as there is a potential snowstorm predicted which may drop more than 2 inches of snow on our roadways.

Please check www.bogotapolice.org for more detailed information on our ordinances.

Please be reminded that ALL Vehicles must be off of the Roadway when 2 or more inches of Snow have accumulated and must remain off roadway until roads are properly cleared.

Vehicles may park in the following DESIGNATED AREAS ONLY when 2 or more inches of snow have fallen:

Designated Areas:

EAST SIDE of Palisade Avenue
or
WEST SIDE of Larch Avenue
or
EAST SIDE of West Shore Avenue (NOT the angled parking adjacent to the railroad tracks)

Your cooperation in planning ahead and complying with our ordinances will allow us to properly clear the roads and allow emergency vehicles the ability to address any emergencies promptly. Thank you for being part of the solution.

Please continue to monitor www.bogotapolice.org, Bogota P.D. Facebook and Twitter Pages. Also listen for Reverse 9-1-1 Messages via telephone. In addition, notify your neighbors and check in on the elderly and any neighbors which require special needs.
For more information, or any questions please contact:
Bogota Police Department
201-487-2400
info@bogotapolice.org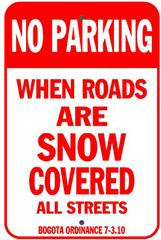 ( To help support Bogota Blog NJ with it's coverage of Local news & sports please contribute what you can by using the donation button at the top right of the page.)